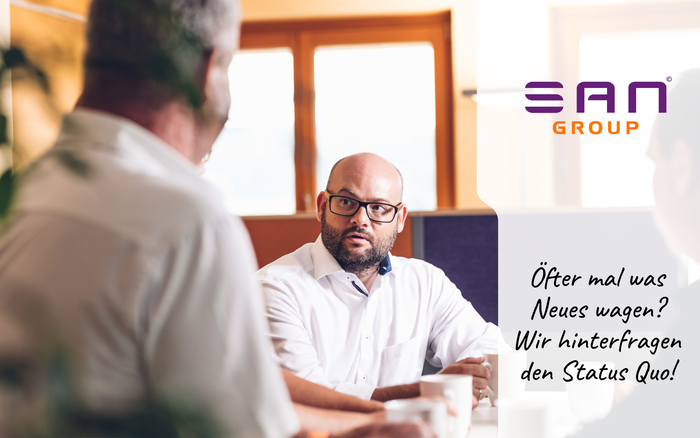 COMPANY DESCRIPTION
SAN Group is a globally operating biotechnology company headquartered in Austria with employees on four continents. We are represented by subsidiaries and distribution partners in Europe, North- and South America, the Middle East, Asia, and Australia. The business of SAN Group focuses on animal health (SAN Vet), crop protection and nutrition (SAN Agrow), food diagnostics, real estate development (SAN Real), and renewable energies. Or vision is simple as that: Creating science-based solutions for a better tomorrow. SAN Group is 100% privately owned.
ROLE DESCRIPTION
Diese Aufgaben legen wir vertrauensvoll in deine Hände:
Implementierung und Standardisierung eines gruppenweiten Qualitätsmanagements
Unterstützung der Unternehmensprozesse mit QM-relevanten Themen bspw. Lieferantenmanagement oder Reklamationsmanagement
Vorbereitung und Erstellung von gruppenweit relevanten Dokumenten (Prozessbeschreibungen, SOPs, Trainingsunterlagen) für unterschiedliche QM-Standards in den verschiedenen Unternehmensbereichen.
Durchführung von internen Audits und Begleitung von externen Audits (unterschiedliche QM-Standards)
SKILL REQUIREMENTS
Um in dieser Position zu wachsen, braucht es folgendes:
5-7 Jahre einschlägige Berufserfahrung, vorzugsweise im Bereich Qualitätsmanagement und bei der Implementierung eines QMS
Erfahrung bei der Implementierung der Standards ISO 9001, ISO 17025 und GxP
Ausbildung zum internen Auditor von Vorteil
Akademischer Background im Qualitätsmanagement ist ein Plus
Gute Englischkenntnisse in Wort und Schrift
Reisebereitschaft (ca. 4 Wochen pro Jahr)
Veränderung als Chance und nicht als Bedrohung sehen
Wissensdurstig, aufgeschlossen, inkludierend
BENEFITS
Wir haben eine SANtastische Kultur, das heißt für dich:
Wir sind per Du vom Praktikanten bis zum Eigentümer
Keine Krawatten und offene Türen
Kleine Teams und Platz für Wachstum
Hoher Vertrauensvorschuss und Raum, um Neues zu schaffen
Internationale Firmengruppe mit einer großen Vision und den Möglichkeiten diese zu verwirklichen
Flexible Arbeitszeiten und Homeoffice
Benefits wie z.B. Team Events, moderne Arbeitsumgebung und IT-Infrastruktur, kostenlose Parkplätze, Sporthalle & Fitnesscenter, interne und externe Weiterbildung
REQUIRED DOCUMENTS
Was muss man sonst noch wissen?
Dein Arbeitsplatz ist in Herzogenburg (Österreich)
Wir nehmen deine Arbeitskraft gerne für 38,5 Stunden pro Woche in Anspruch, Vollzeit, bei einem unbefristeten Vertrag
Diese Position kann ab sofort besetzt werden. Wir nehmen aber gerne auf deine Kündigungsfrist oder dein gewünschtes Startdatum Rücksicht.
Abhängig von deiner Qualifikation und Berufserfahrung bieten wir ein attraktives Gehaltspaket beginnend bei € 49.000 brutto pro Jahr plus attraktive Benefits.
More Information
Experience Level

Professional (3-7 years)

Academic Degree

University / FH, HTL, HBLA, Matura, Abitur

Fields of Study

Life Sciences, Public Health / Health Management, Natural Sciences in general

Job-Reihung

Standard